Does it take too much time and resource to perform risk assessments? Are your assessments overly complicated and is it difficult to obtain input from multiple people across your organization?  Wouldn't it be great if you could update policies and manage the approval process with the click of a mouse?  If your answer to any of these questions is 'yes', Strunk's Risk Manager software is for you!  This comprehensive program includes an automated risk assessment solution – Risk Assessor, a module to help stay on top of all changes and approval of policies – Policy Manager, a comprehensive vendor risk assessment and administration solution – Vendor Manager, and more!  All for one low price with a money back guarantee.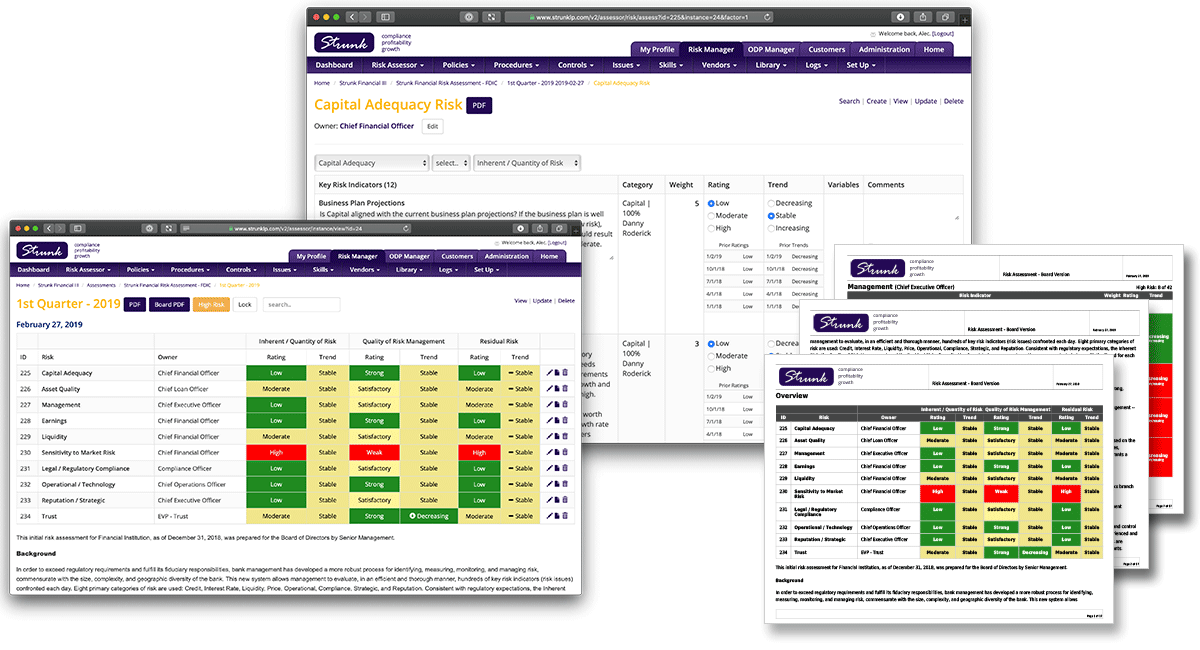 1
Risk Heatmap
Heatmap identifies risk assessment strengths and weaknesses at a glance.
2
Drill Down For Details
Drill down to Risk Category and Risk Indicator level for details, including Rating and Trend
3
PDF Reports
Generate PDF reports for Board or external use.
Pre-loaded industry frameworks
Heat map identifies risk profile at a glance
Fine-grained control over read/write access
Drill down for specifics
Automated trend tracking
Start managing risk across your organization with the click of a mouse.
Schedule A Demo Or Call (877) 485-8808 To Learn More…
An independent certified public accountant has examined Strunk's operations and found them to be in compliance with the AICPA's Trust Service Principles. It was determined that Strunk meets the Security, Availability, Processing Integrity, Confidentiality, and Privacy criteria for SOC 2 established by the AICPA.