If you have not reviewed your overdraft program recently you may be using policies and procedures that are non-compliant with current laws and regulations. Strunk's comprehensive program review will include recommendations to increase fee income and ensure compliance. Additionally, receive access to our state-of-the-art program management software, ODP Manager.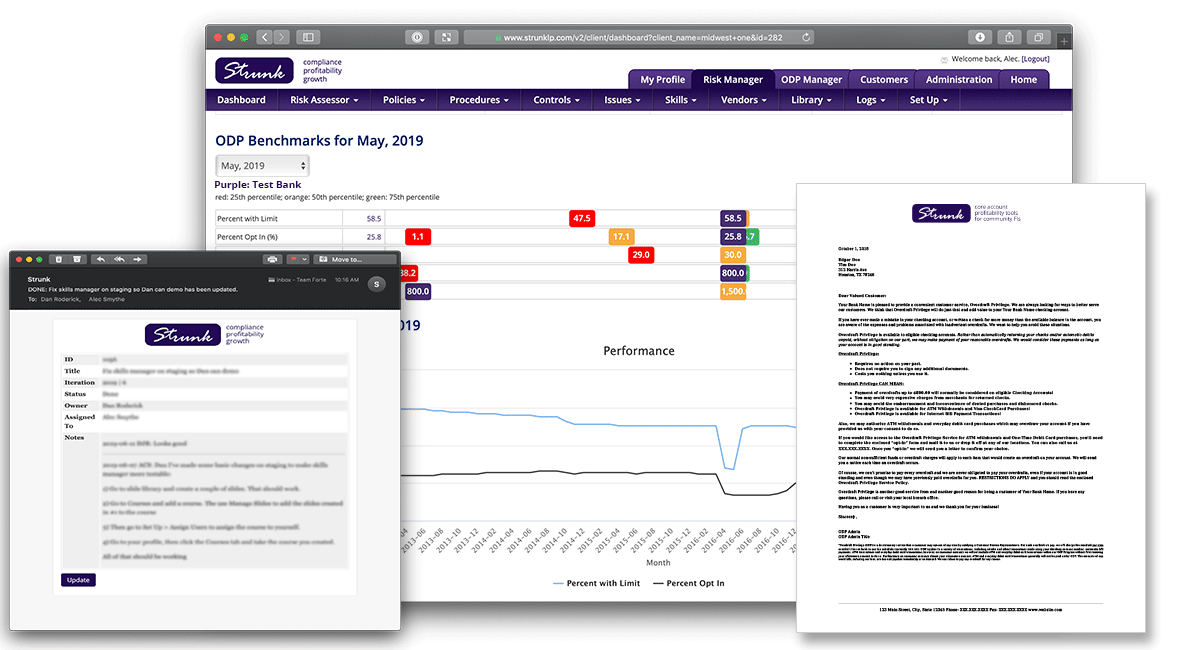 1
Automated Import
System automatically imports necessary data from your core system each night. You get an email when complete.
2
Extensive Reporting
Dashboard shows overall trends with your program. Drill down for details by product and branch.
3
Generate Letters
Generate collection or custom letters based on account events. System can send email alerts in addition to printed letters.
Account Inquiry
Standard & Custom Letters
Management Reports
Searchable Event History
Hosted
Enhanced Customer Notifications
One-click Report Export To Excel
Email Of Letters
Automatic Monthly Updates
Future Regulatory Modifications
Access From Any Operating System
I have enjoyed working with everyone at Strunk.  Strunk offers a very valuable product and not only is it an income producer for the bank, it is a great service for the account holder.  I have been a proponent of this product since it was first introduced to me 15 years ago.
We have been very pleased with the new ODP Manager. Not only is it easier to use than the previous software, it has also been a huge plus to have Strunk host the solution, which takes that responsibility off of our bank and has allowed them to deliver regular updates seamlessly.
We had looked at other discretionary overdraft payment programs but decided on Strunk. We liked Strunk mostly because of their expertise in compliance. We knew we were well covered. They understood everything in terms of regulatory issues surrounding overdraft privilege. The members love it!
It is very important to us to implement an overdraft program that is compliant with all current regulations. We are pleased with Strunk's emphasis in the area of compliance. In fact, Strunk conducted on-site educational sessions on all aspects of their program with our entire staff so they were up to speed before we launched. We've received excellent feedback from our members and it's been very positive in terms of our organization's bottom line.
Overdraft privilege has been very well received by our customers and have received a number of complements on the program. Strunk was instrumental in training, explaining the program, implementation, covering opt in and proper methods of notification. They also provided forms, letters, policy documentation and all other necessary material. Strunk did everything we needed to get us up and running.
We looked at three outsourced providers of overdraft payment programs. First we looked at the software they provided which is an important consideration for us. We liked what Strunk had to offer. It fit our bank. We also were very impressed with their compliance expertise and their understanding of regulatory and legal issues.
Overall, partnering with Strunk has been a win-win situation for us and our members. The implementation went smoothly, and the software has been problem-free. Our overdraft privilege service has enhanced our fees. Strunk made some conservative projections regarding income and the program exceeded those projections as well as our expectations.
Our members love Overdraft Privilege. It's just a great service in every way and we would certainly recommend it to any other credit union looking to expand its service offerings.
The program has become a popular service for our customers. They look at it as a product with tremendous value and the overdraft fee has not been a major concern. One of the things that our management was impressed with was the way Strunk paid attention to detail with the regulatory environment, keeping abreast of changes, submitting regulatory updates. The company did everything they promised and kept our program in compliance.
So often I've experienced vendors who are skilled at front-end sales then hand it off to their implementation crew and they fall very short in delivering what the sales people promise. That's not the case with Strunk. They worked well with our team and they are professional. When I buy into a program, I'm putting myself on the line. In Strunk's case, they did everything they said they would do.
Sterling Bank has partnered with Strunk for the ODP Manager program since 2005. The ODP Manager software has been a tremendous pivotal asset in our successful overdraft program.
Don't miss out on additional revenue or risk being out of compliance.
Schedule A Presentation Or Call (877) 485-8808 Today
An independent certified public accountant has examined Strunk's operations and found them to be in compliance with the AICPA's Trust Service Principles. It was determined that Strunk meets the Security, Availability, Processing Integrity, Confidentiality, and Privacy criteria for SOC 2 established by the AICPA.